Tales of Relationship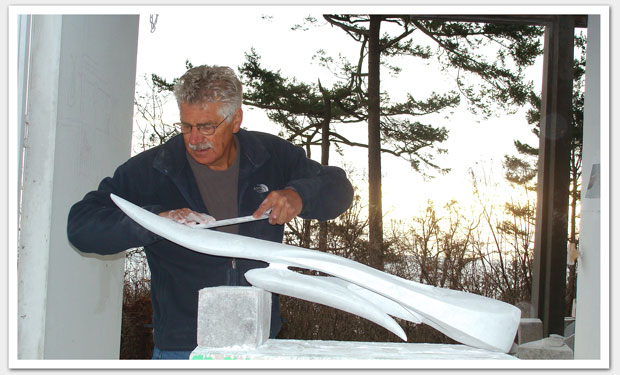 I love this picture as it shares the dance of the sculptor and the stone. Not only the physical dance, but the harmony of the song, and the passion of the creative spirit. The original energy from start to finish of Maarten's sculptures engages viewers.
Nadina's desire to show a tour of Maarnada on video created a masterpiece. Award winning film maker Gord More, musician Tobin Stokes and artist Maarten Schaddelee come together again in a Tale of Relationships to engage all your senses. Click here to see 3 minute video
'Tales of Relationships' was inspired during our time out in Maui. The Humpbacks and their amazing tails and birth of the next generation......created a still point....Maarten in the water swimming as the whales passed. Nadina on the shore watching. Married forty four years we share the moment in different ways but come back together to share eachother's points of view and value the sharing in an exquisite way. One Tale is Maarten, the other Nadina...... or the Whale and her offspring, the ocean, the moment, but in the sharing are the wings of the two tales that give flight to a new story.
Come and share the tales of relationships with all creatures great and small. From the tiny birds singing Spring's song to the Eagles, Whales, Dolphins, and Seals. Beauty in mediums of wood, stone, and carved paintings. A Tale for everyone to share.
Please join us.
In gratitude of our Maarnada Collectors and those they bring to Maarnada, We look forward to greeting you,
Nadina and Maarten
Open by appointment - 250-477-1651 or ma1651@telus.net